How does the Inkless Camouflage treatment work?
It is a procedure where a product that has collagen, vitamins, hyaluronic acid, among others, is injected. Before the treatment is carried out, the area is cleaned and exfoliated with a safe body exfoliator. With the site sanitized, micros needling is done with dermograph equipment in each stretch mark/scar. With smooth movements and the correct height of the needle it is possible to activate the melanocytes around the stretch mark, making the marks become camouflaged. After 10 or 15 days the client needs to come back to have the Radio Frequency.
Reduces up to 80%
Stretch marks and scars anywhere on the body.



Durability in the results
The durability of the results is 5 years on average.



Treatment per region
Treatment done per region affected by stretch marks or scarring, including a Radio Frequency session.
The esthetic procedures are destined for
I would like to thank Anne for her excellent work. Anne is simply wonderful, I am loving the results of the treatments I've done. I highly recommend Plasmalifting, Bioplacenta of Celebrities, BB Glow, all are wonderful procedures. And I couldn't forget to talk about the jowls and the flat belly, I'm loving it. I just want to thank Anne for taking such good care of me.
Anne is awesome! I trust her work and her character 101%. My self-esteem is going up and up and up, wonderful.
I was deeply satisfied after doing the Melasma Control treatment with Anne. Before hiring her service, I had done a treatment in another very well known clinic for 8 months and I didn't get any results. In less than 10 days treating with Anne I could already see the difference. I appreciate Anne's competence, I recommend her and I sign below. I recommend her because I can see and prove the difference of treating with Anne, something I haven't done even for a month and my skin looks great already. Anne treated me amazingly as a client, I am satisfied and happy.
After Anne's treatment my face is beautiful, it seems I don't even have spots. I wish nothing but blessings on Anne's life.
I have been through a Plasmalifting treatment with esthetician Anne. I went to her because I could see that my eyes were deep and had deep dark circles under my eyes. My skin was in need of a renewal due to sun exposure, pollution and also because of my age, after 30 it is essential to look for competent professionals to do an evaluation so that we can preserve the skin and make corrections to raise my self-esteem. I went through the sessions and I am very satisfied with the result. My eyes are much better and my skin is silky. I just thank esthetician Anne. Her work is excellent and I am very happy, especially when I look in the mirror. People see the difference in my face and compliment me, that is amazing!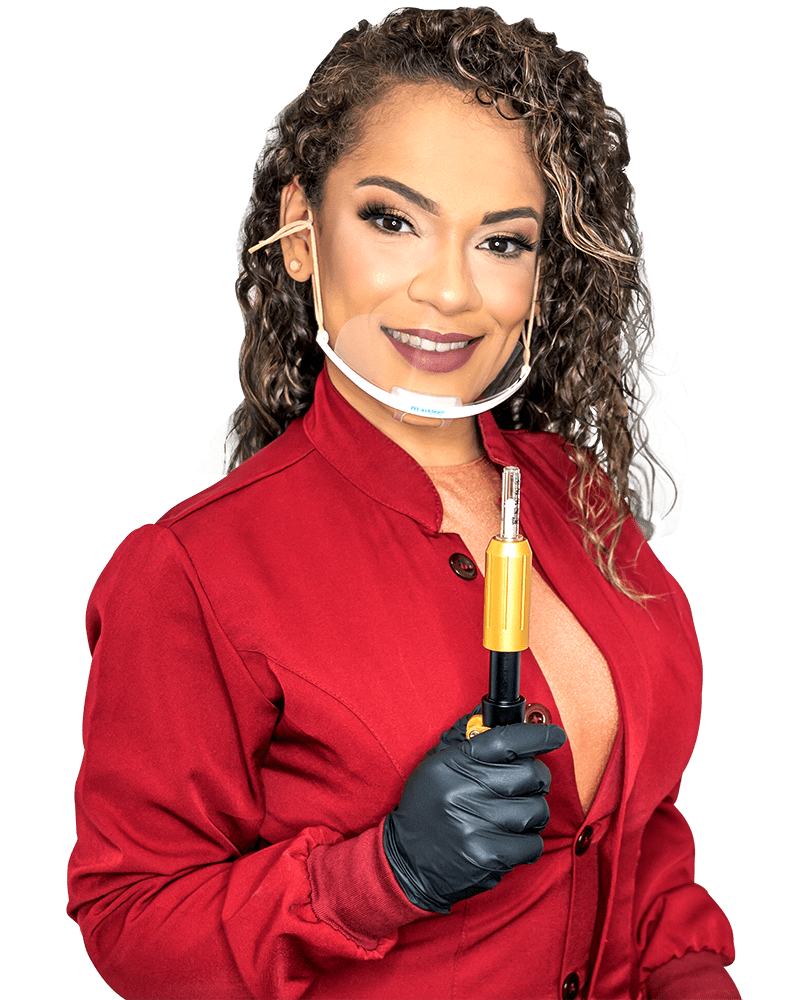 With a degree in Industrial Chemistry from UFG, Anne Guimarães fell in love with esthetics when she took a course in eyebrow design. Seeing that this was the path she wanted to follow, she also took a course in esthetics and was certain that her mission was to raise women's self-esteem and show them their true value. 

She has been working as an esthetician for over three years now. She started her professional career in Brazil, where she attended several clients during a period of one year. After that, she moved to the United States, where she currently lives in the city of Marietta, Georgia, and has gained the respect of many clients with her work.